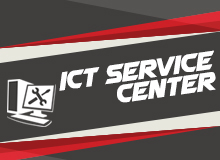 ICT Services Counter
Help Desk
Computer Repair
Software Installation
Operation Hour
Monday - Thursday
08:30 AM - 12:30 PM | 02:15 PM - 04:30 PM
Friday
08:30 AM - 12:00PM | 03:00 PM - 04:30 PM
Person in Charge
Computer / Research Labs

| # | Computer Lab | Location | Person in Charge |
| --- | --- | --- | --- |
| 1 | Artificial Intelligence Lab | Level 1, Block C | Fazli Mohamed |
| 2 | MyXLab | Level 1, Block C | Fazli Mohamed |
| 3 | Robot Soccer (ARVIS) Lab | Level 1, Block C | Fazli Mohamed |
| 4 | Software Engineering Lab | Level 2, Block C | Lokman Hakim Abdul Razak |
| 5 | Real-Time Lab | Level 2, Block C | Lokman Hakim Abdul Razak |
| 6 | Teaching Lab 1 | Level 3, Block C | Siti Aishah Abdul Manaf |
| 7 | Teaching Lab 2 | Level 3, Block C | Siti Aishah Abdul Manaf |
| 8 | Teaching Lab 3 | Level 2, Block C | Mohd Fareeq Md Shah |
| 9 | Data Science Lab | Ground Floor, Block G | Muhammad Nur Shmsuddin |
| 10 | Cyber Security Lab | Ground Floor, Block G | M. Lokman Nur Hakim Minu |
| 11 | Industrial Lab | Ground Floor, Block G | Mohd Ismahashimi Mohd Sabri |
| # | Research Lab | Research Center | Location |
| --- | --- | --- | --- |
| 1 | Cyber Analytics (CA) Lab | CYBER | Level 1, Block H |
| 2 | Cyber Protection and Governance (CPG) Lab | CYBER | Level 1, Block H |
| 3 | Network & Communication Technologies (NCT) Lab | CYBER | Level 1, Block H |
| 4 | Data Mining & Optimization (DMO) Lab | CAIT | Level 2, Block H |
| 5 | Medical Computing (MC) Lab | CAIT | Level 2, Block H |
| 6 | e-Service Lab | SOFTAM | Level 2, Block H |
| 7 | Strategic Information and Software Systems (SISS) Lab | SOFTAM | Level 3, Block H |
| 9 | Platform and Emerging Technologies (PET) Lab | SOFTAM | Level 4, Block H |
| 10 | Asian Language Processing (ASLAN) Lab | CAIT | Level 4, Block H |
| 11 | Machine Learning & Vision (MLV) Lab | CAIT | Level 4, Block H |
| 12 | Sentiment Analysis (SA) Lab | CAIT | Level 4, Block H |
| 13 | The Applied Ontology & Semantic (ONTOS) Lab | CAIT | Level 4, Block H |
| 14 | Mixed Reality & Pervasive (MyxLab) | CAIT | Ground Gloor, Block C |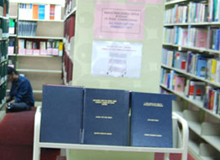 Resource Center
The Faculty has a Resource Center which provides a conducive environment where student can browse through books, magazines, periodical journals and theses of graduate students. In addition to these, the Resource Center also provides access to the Journal of Information Technology and Multimedia, a journal by the Faculty.
Operation Hour
Monday - Thursday
09:00 AM - 12:30 PM | 02:30 PM - 04:30 PM
Friday
09:00 AM - 12:00PM | 03:00 PM - 04:30 PM
Person in Charge
Multimedia Studio
Faculty has one Multimedia Studio offers FTSM students to make a multimedia activity.
Operation Hour
Monday - Thursday
09:00 AM - 12:30 PM | 02:30 PM - 04:30 PM
Friday
09:00 AM - 12:00PM | 03:00 PM - 04:30 PM
Person in Charge
Rooms

#
Location
Person in Charge
1
Lecture Room
Lecture Room 1 - 6, Level 1 & 2, Block B
Mohd Fareeq Md Shah
Lecture Room 7 - 9, Level 1, Block G
M. Lokman Nur Hakim Minu
2
Student Discussion Room
Discussion Room 1 - 3, Level 1, Block D
3
Tutorial Room
Tutorial Room 1 & 2, Level 2, Block G
Tutorial Room 3 & 4, Level 3, Block G
Tutorial Room 5, Level 3, Block E
Tutorial Room 6, Level 4, Block E
Tutorial Room 7 & 8, Level 4, Block D
4
Meeting Room
Glass Discussion Room, Upper Level, Block A
Mohd. Zaiful Anwar Mohd. Zain
Meeting Room 1 & 2, Ground Floor, Block B
Juliana Jasin
Dean's Office Meeting Room, Level 1, Block G
Saiful Azha Ahmad
Meeting Room, Level 2 / 3 / 4, Block H
Zulhimi Hamzah
5
Viva Room
Ground Floor, Block B
Juliana Jasin
6
Executive Discussion Room
Level 2, Block G
Norzaimawati Mahadi
Common Spaces
#
Location
1
Student Center
Block A
2
Pergola
The pergola is an open air concept place where everyone can hang out and spent their 15 or 30 minutes to spare between classes
Block C
3
Innovation Space
Innovation Center is the place where everyone can hang out and can be turned into almost anything you imagine
Level 1, Block D
4
Prayer Room (Musollah)
Prayer rooms for Muslims Separate surau for males and females.

Prayer Room (Men), Level 2, Block E
Prayer Room (Women), Level 3, Block E
Prayer Room, Level 2 & 3, Block H

5
Cafeteria
Ground Floor, Block G
Faculty Map